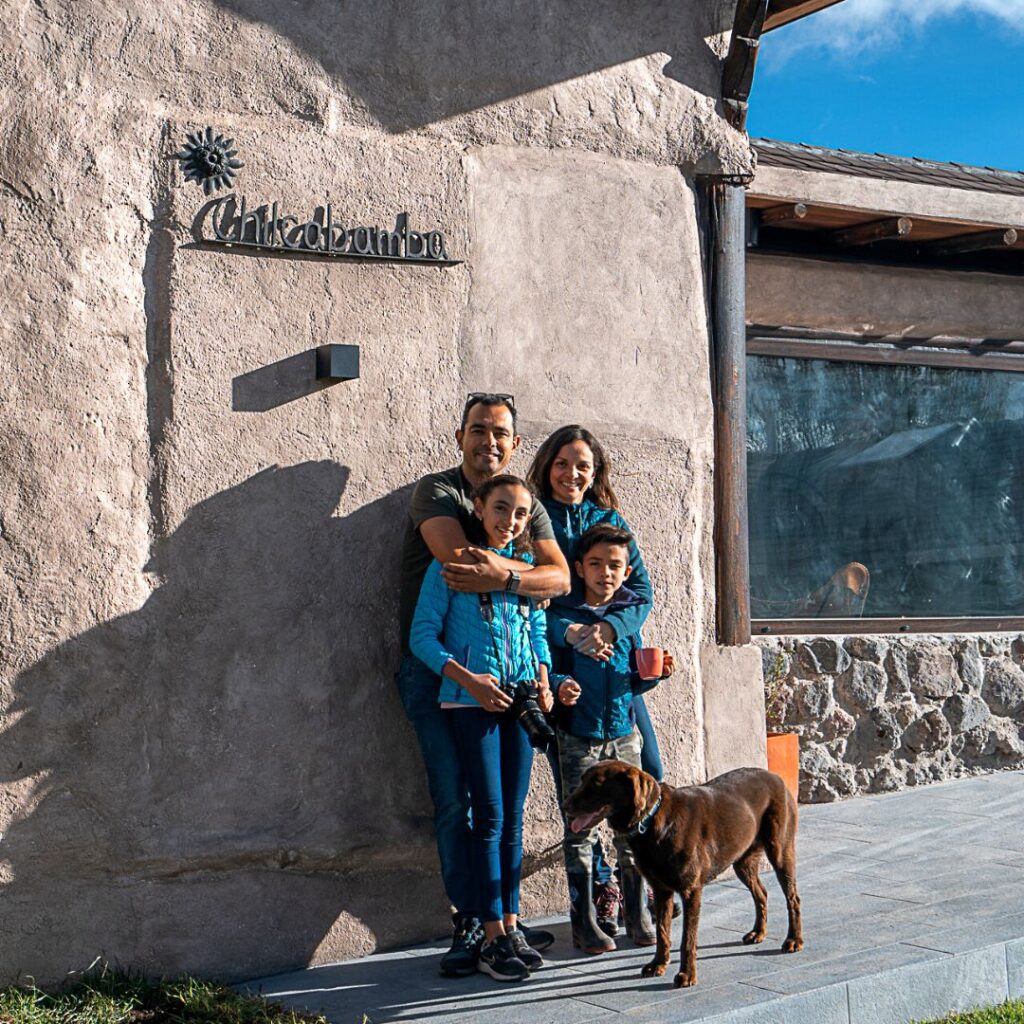 Chilcabamba is our home in the Andes, a viewpoint to the highest active volcano in the world, plus the other beautiful mountains that surround us and provide us with dream landscapes and lots of peace! We love discovering new places together with our children, and we are happy to share our recommendations for your next adventure.
We owned Chilcabamba for almost 10 years now. Managing a mountain lodge requires a lot of coordination with our team, with the planning of each of our guest's visits and fielding requests of our guests from different parts of the world. Everything is very dynamic and exciting.
We believe that Ecuador is the ideal country to work in ecotourism projects such as Chilcabamba Mountain Lodge. The access to different cultures and ecosystems such as the Andes, the Amazon, the Cloud Forests, the Pacific Coast and the Galapagos Islands make our country an ideal destination for explorers and nature and culture lovers. We have worked for more than 20 years in different regions, in each of them with members of the community who have guided, protected and welcomed us into their families. We have sought to share these authentic experiences with travelers from all over the world.
We look forward your visit.
José
As the manager of Chilcabamba, José masters everything - from administration to reservations, kitchen and cleaning. He has been part of Chilcabamba since 2006 and knows the area better than anyone else. José grew up here in Loreto del Pedregal and has always loved this area which is for him the best place on earth - the land of honest and hard-working people. Enjoying every day to the fullest he loves to play soccer, go for a walk and listen to music.
Eugenia
Eugenia loves to create new dishes and surprise our guests, with her delicious soups, homemade jams and freshly baked cakes. She has been part of our team since 2018. Eugenia was born in Machachi and since she was a little girl, she used to come to this area during her school vacations. What she likes most about Chilcabamba is the scenery, the tranquility and meeting people from other countries. She enjoys horseback riding very much.
Rafael
Rafael is our "chagra" del Pedregal, who guides all horseback rides within the Cotopaxi National Park. As there are only a few guides with this permission, this is a very unique experience - sitting on the back of a horse, riding through the picturesque landscape and enjoying the wonderful view of the Cotopaxi Volcano. We are very proud to have been working with him for more than 5 years.
Patricio
Patricio is our local guide for trekking tours to Rumiñahui as well as for the visits of the Cotopaxi National Park. He knows the area like the back of his hand and loves to share his knowledge and adventures.
Fabián
Our neighbor Fabian is very passionate about his animals and loves to share the experience of milking cows - a family adventure that everybody will love. In addition, he guides the tours to Pita River Waterfall and to Pasochoa Volcano. He grew up in Pedregal, so he knows the area backwards and forwards.
David
Just next door to our property lies the picturesque fish pond of the XY family, who offer trout fishing as an adventure for the whole family since (Xy?) years. Take a fishing rod, cast the bait and wait for the trout to bite. The pond can be reached by a short walk through the local flora and fauna towards the impressive Cotopaxi Volcano.
Carolina
Carolina recently started working with us, she recently graduated from tourism and is in charge of hotel reservations. She always greets guests with a smile and supports our guests in coordinating activities.
Eduardo
He has experience as a cook.
Carlos
She grew up in Loreto del Pedregal, and is in charge of housekeeping at our hotel.