Our lodge complies with strict biosecurity protocols and has been certified with the SAFE TRAVELS seal granted by the Ministry of Tourism, and developed by the World Travel and Tourism Council.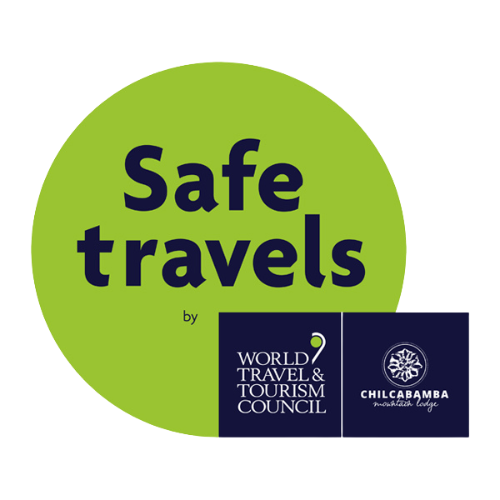 Ileana
wrote a review July 14 2021

Beautiful lodge at the foot of Cotopaxi
We traveled in pandemic times, so we had the lodge just for us. We liked a lot the garden with the amazing plants and the trails. We could see the giant hummingbird and other birds. The room was very clean and with nice decoration. The food-excellent. From the back yard we could see Cotopaxi. About 5km to of one the park entrance.
emiliesch2020
wrote a review Mar 2020
Amazing stay close to the Cotopaxi! Great location with amazing view on the volcano! Very welcoming staff and we enjoyed the dinner very much. Well, you got it, the whole family loved it! We recommend the Chilcabamba Lodge and would love to go back!
Enrique_Reyes
wrote a review Feb 2020
Outstanding place, outstanding visit I visit this place with my family (wife and a toddler) during a weekend. We have visited other alternatives nearby and this place become our favorite one. Here's my review about it - Disconnection. You'll be able to feel, smell, taste and hear peace. - Rooms. Comfortable, warm, and cozy - Activities. The range is huge and they are all very authentic. You can simply enjoy a marshmallow, drink coffee or visit a nearby volcano. - Kindness. You'll find two ponchos in your room to protect you from the cold. What a nice touch! Also, they will offer you a welcome canelazo! - It has a very adequate price to quality ratio - It is a family friendly place
Sol Maria Bellido
wrote a review Mar 2021
Espectacular hotel y alrededores!! Nos encantó el lugar!! Es un hotel con instalaciones muy bonitas, espacios para descansar donde hay chimeneas y los cuartos excelentes. Desde el hotel se puede ver el volcán Cotopaxi y los alrededores son muy tranquilos y rodeado de naturaleza. Eugenia nos ayudó en todo momento, la comida era deliciosa y tenían opciones de snacks como Smores en la tarde y chocolate caliente. El tour al volcán Cotopaxi nos encanto!! Nos recogieron del hotel y el guía nos explico todo, sabía bastante la zona y de la historia!
Rob Maclaren
wrote a review Jul 2021
Quaint stay in remote area with beautiful view of Cotopaxi and friendly staff Very friendly staff. Location is quiet and remote with easy access to Cotopaxi and local hikes (e.g. Condor Machay Cascada). The room is quaint (it has an electric wood stove). We had laundry done within 24 hours and they made lunch to-go for us twice (it included a sandwich, drink, two bars, and two pieces of fruit for very little cost). Great breakfast with an amazing view of Cotopaxi. Dinner is also very good. A local bird guide was staying there so you know it has to be reputable.