Chilcabamba is a family-owned lodge with only thirteen rooms. Chilcabamba is focused on comfort and quality service for single travelers, couples, families and small groups of up to thirty people.
All rooms are equipped with modern woodburning stoves to keep you warm at night, along with cozy ponchos and thick duvets that warm our guests during the cold Andean nights.
The rooms each have a private bathroom, biodegradable toiletries, plenty of hot water and even WIFI.
We have room configurations for all tastes. Some rooms have private decks that take full advantage of the incredible landscapes that surrounds the lodge. We also have family rooms and a highly requested suite.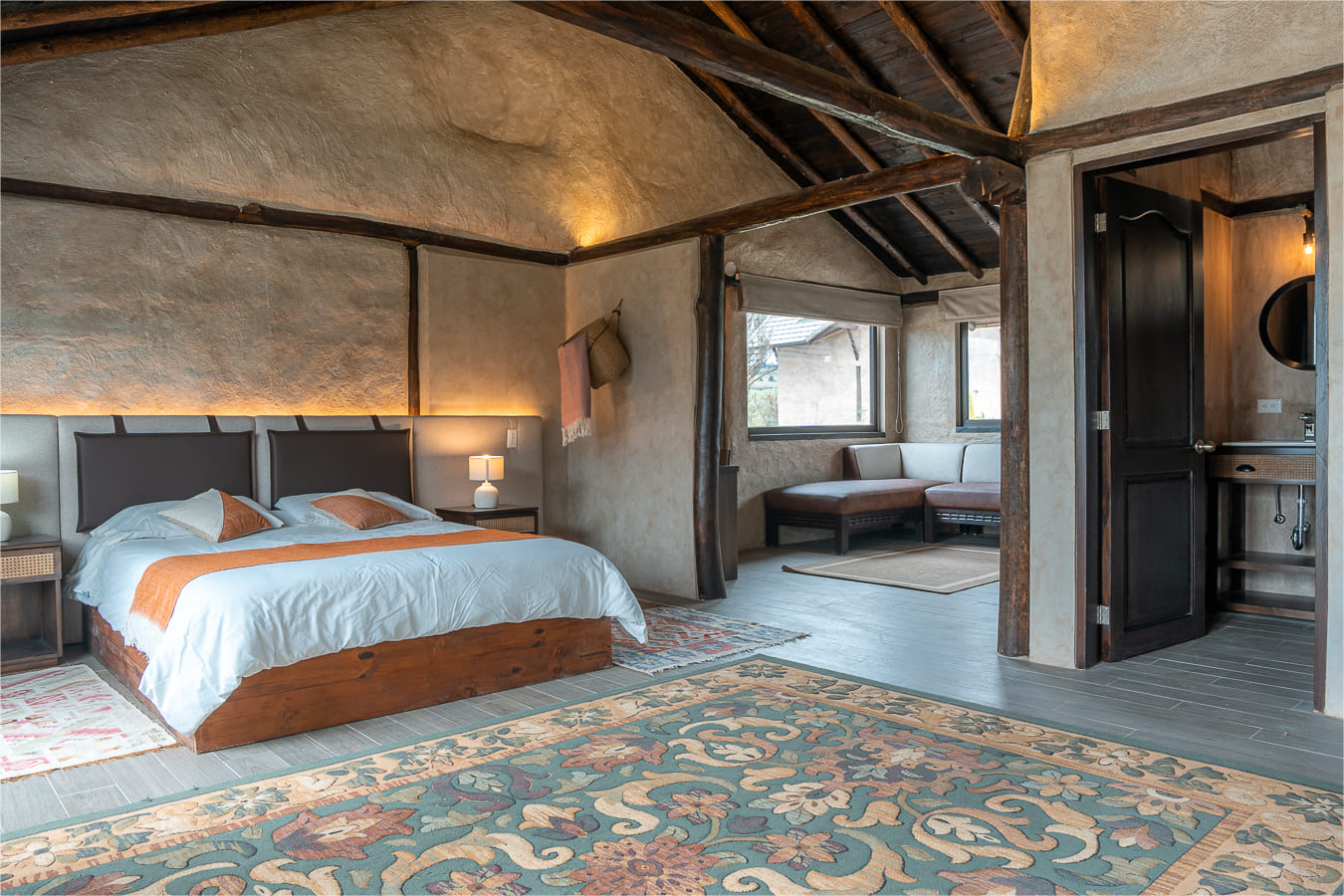 Deluxe with deck Mountain View
The largest room at Chilcabamba, our suite is very popular. It has a queen-size bed, two living rooms, a balcony with a view of Pasochoa Mount, a modern woodburning stove, a sofa-bed (ideal for families) and one bathroom with plenty of hot water.
Room Size: 42,30 m2 / 455.31 sq-ft
Ideal for 2 adults and 2 kids
Chilcabamba has 4 standard rooms. Each room has a private bathroom and lots of hot water. The beds can be configured to your needs, being for single, matrimonial, double or triple occupancies.
Two double rooms have a balcony with a view of Cotopaxi and Rumiñahui, while the other two offer views of the Pasochoa Volcano that can be triples.
Room Size: 23,25 m2  / 250,26 sq-ft
Max occupancy 3 adults
We have two 2 rooms in this category, both with large windows, one overlooking the Rumiñahui Mount and the other hotel's central garden/patio. Despite not having a private deck they are cozy and quiet. Both rooms have private bathroom, hot water, ponchos and modern wood stoves.
Room Size: 22,50 m2 / 242,18 sq-ft
Max occupancy 2 adults
Chilcabamba is an ideal place for families, so we have 3 family suites available! They can accommodate up to 5 people each.
Each suite has two bedrooms that share a bathroom and a small living room with a modern wood stove to keep everyone warm at night.  One bedroom has a matrimonial bed with access to the balcony and the other bedroom has two or three twin beds (in bunk beds). One of our family suites has a view of Cotopaxi and two of them look out on Pasochoa Mount.
Room Size: 42,30 m2 / 455,33 sq-ft
Max occupancy 2 adults